THREE CANADA GEESE
An Acrylic Painting by Ron Refsland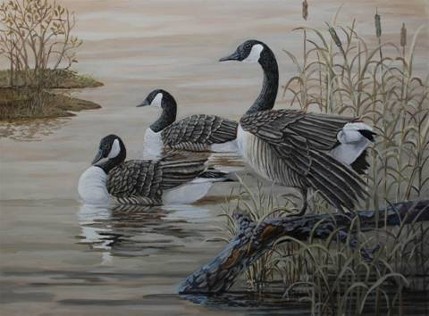 If you're interested in purchasing a print, please contact Ron Refsland at
ron@refsland.com
. You will be notified as to price and size, when available, hopefully by the end of April 2010.
Please visit Ron's website where he displays his collection of animal artwork:
www.refsland-art.com
RON'S BIOGRAPHY, IN HIS OWN WORDS
My dog, who takes me for a two mile walk each morning, gives me the pleasure to observe and photograph the geese at three big ponds that we pass.
Living in West Virginia gives me the opportunity to photograph wildlife in different seasons.
Ron Refsland
2 Highland Circle
Lewisburg, WV 24901
HOME
COMPLETE LIST OF PAINTINGS
SUPPORT LOVE CANADA GEESE